Jean Prosper de Mestre (1793 -1844)

Jean Prosper de Mestre (known and referred to as Prosper de Mestre) was the first de Mestre to arrive in what is now known as Australia. According to most sources he landed in Sydney in August, 1818, as supercargo aboard the ship Magnet, although the Sydney Gazette quotes him as 'having come to the Colony as an American Citizen from China on April 16th, 1818, in the Magnet' but this may have been the sailing date from China.
Prosper appears to have been sent from Martinique in about 1802 or 1803 to be educated in Philadelphia, USA, and stayed there until 1812. He then left for China and resided in various places including the Isle of France (Mauritius), various British colonies and India before arriving in NSW.
He established himself in business as a merchant and importer, his residence and counting house being in George Street (near de Mestre Place, which is just opposite Wynyard Station). As Prosper was regarded as an American citizen, he found that he could imprt tea directly from China and undersell the other merchants who had to import circuitously. They had to abide by the East Indian Company Charter which prevented English subjects importing directly.
On 1 March, 1821, he married
Mary Ann Black
at St Phillip's Church of England, Sydney, and in 1823 they acquired a small farm at Bargo in addition to their town house.
In June 1823 he was elected a director of Sydney and Van Diemen's Land Packet Company. In June 1825 he was elected to the committee of the Agricultural Society of NSW and on August 30th of that year he was naturalised by a Special Act of Parliament being the second person in NSW to become a British subject. He took the oaths in September, the whole process being organised by W C Wentworth who appears to be one of his friends. In 1830 the legality of the ceremony was doubted when Prosper applied to register a ship and thus hold a share in a British vessel. After various letters and evidence, Chief Justice Forbes ruled that since Prosper was born in a British vessel on the high seas he was technically a British subject and so his registration application succeeded.
Prosper was also a director of the Bank of NSW (1822-23, 26-28, 29-42) and the Marine Assurance Co. in the 1830s. In 1840 he was a founder of the Mutual Fire Insurance Co. of Sydney, as well as having interests in whaling. In 1836 as a supporter of the Church of England he joined the committee in opposition to the proposed National School System and in 1841 he became a trustee of Christ Church St. Laurence, Sydney.
Although he owned several houses in Sydney, including his main house which had been moved from George Street to Liverpool Street, he acquired property on the Shoalhaven River. 1824 was the year that Prosper was promised land by Governor Brisbane. 1300 acres were authorised on the southern shore of the river in 1829 but he did not receive the deed until 1836, naming the property Terarra. He also had another grant of 1280 acres called Yerrigong about six miles west of Terarra granted by Governor Gipps on 17 February 1841.

The homestead Mill Bank House which still stands in Millbank Road, was probably erected at this time. A village named Terrara soon began to develop. The spelling was changed to Terara in 1935.
Prosper developed the Terara holding as a hobby farm initially, but the depression of the early 1840s and failing health caused him to move to Terara from Sydney. His town house, situated on the corner of Liverpool and Elizabeth Strees, Hyde Park, was sold by auction on Thursday 16th May 1844 by Thomas Sutcliffe Mort. Soon after, on 14 September 1844, Prosper died and was buried at Terara.
Mary and two of her sons, Andre and Etienne (she had 10 children, three boys and seven girls), furthered the development of the village, which was, at that time, the largest settlement in the area. They added three wharves in 1854 and established a steam-driven flour mill in 1856.
Etienne Livingstone de Mestre 1832-1916
Etienne was the youngest son of this large family. He was very fond of horses and after his father's death he began to develop Terara as a racing centre. Before he was 20 he was one of the most successful amateur riders in NSW. By 1857 Terara was equipped with model stables and the best private track in NSW at which many unofficial race meetings were held.
In 1859 he visited Melbourne in charge of his future father in law's horse
Veno
for a match race.
Veno
won and a move was made which resulted in the inauguration of the Melbourne Cup. In 1861 the racehorse
Archer
, bred in Braidwood but trained at Terara by Etienne de Mestre, won the first Melbourne Cup and carrying the all-black colours repeated the feat the following year. In 1863 de Mestre was refused permission to enter the horse again due to a technicality. De Mestre won two more Melbourne Cups, with
Chester
in 1877 and
Calamia
in 1878. His five wins were unmatched until Bart Cummings achieved the same feat in the 1970s.
From then until 1878 he had numerous placings in the Cup and three winners Tim Whiffler (1867), Chester (1877) and Calamia (1878), however although he owned and trained the others he had sold Chester to the Hon. James White for £2000 just before the Cup of 1877. The Sun-Herald of 5 Nov 1961 claims that he leased Chester on the morning of the Cup so that White could own a Cup winner, and it was transferred back after the race. It was also reported in the same article that Etienne won £40,000 in bets through Chester winning both the VRC Derby and the Melbourne Cup that year.
Besides the Melbourne Cup there were other important wins to his credit as a trainer, namely the AJC Queen's, three times with Tim Whifler, twice with Dagworth and also with Robin Hood; AJC Metropolitan with Navigator, Horation, Tim Wiffler and Dagworth; AJC Derby with Navigator, His Lordship, Robin Hood and Trident; Ascot Vale Stakes, His Lordship, Grand Prix and Navigator, VRC Derby, Chester, Robinson Crusoe and Navigator, Maribyrnong Plate with Vulcan; Champagne Stakes, His Lordship and Navigator, Sires Produce Stakes, His Lordship, Australian Cup, Navigator.
Etienne Livingstone de Mestre with his wife Clara and their eldest daughter Melanie
As well as floods at Terara, he lost a lot of money through droughts in Queensland where he had invested heavily. During the same period he bought a lot from the stock of C B Fisher who retired from racing. Many of the brood mares died at Terara and the young horses did not live up to the promise of their breeding. To get himself out of trouble he made the biggest single bet in Australia to that date but lost.

He was suffering from dropsy and in debt so the autioneers sold Terara in April 1883, the property going to Dr Hugh Mackenzie. A benefit race meeting was held for Etienne at Randwick. With the money he retired to Sutton Forest and died at his home Garry-owen, Moss Vale on 22 October 1916 at the age of 84. He is buried alongside his wife and mother-in-law at the Church of England cemetery, Moss Vale.
Articles on his life have appear in the Sun-Herald (5 November, 1961), Parade (January 1962), Daily Mirror (25 June 1960) Sydney Morning Herald (29 September 1960).
Etienne George (Eddie/Etty) de Mestre 1874-1932
Born in Australia, he used to claim that his father introduced thoroughbred bloodstock to Australia. He was friendly with trainer Dick Wootton in his native country and in due course Eddie followed him to Britain to become associated with the Wootton stable at Treadwell House, Epsom, and broke in the stable's yearlings. He was granted a trainer's licence by the Jockey Club in 1905 and went to Middleham to train for G. W. Smith, a Leeds-based bookmaker who used the nomme-de-course of George Drake. He brought off several coups for Smith until the partnership parted in May 1911.
He moved to Branton Court, Farnham, near Knaresborough, where the great Northern trainer, Bob Robson, had retired and virtually loaned de Mestre his training facilities. After some months there, Robson sold the estate and Eddie de Mestre went first to Malton and then down to Newmarket's Moulton Paddock stables as private trainer for Solly Joel.
At some point while the family was training at Bishops Cannings, George Formby of 'Leaning on a Lampost' fame was sent at 7-years old to the stables. He was apparently very unhappy and only stayed 10 weeks!
De Mestre won the 1921 Lincolnshire Handicap for Mr Joel with Soranus, a 33-1 chance (ridden by fellow Australian Bernard "Brownie" Carslake) who a few days before the race had developed leg trouble. It was always held a great tribute to de Mestre's skill as a trainer that Soranus was able to run, let alone win. In that same year Mr Joel had a smart two-year-old whom de Mestre trained to win the Hurst Park Plate, quite an important two-year-old race in those days. This was Sicyon, a huge younster standing 17 hands as a two-year-old. Later he won the Prince of Wales's Stakes at Goodwood and in the autumn won Newmarket's Prendergast Stakes from Pogrom, who went on to win The Oaks in the following year. Sicyon ended that season by winning the great Two-year-old Plate at Hurst Park. He had no classic engagements as a three-year-old, but continued to win good races - the Londesborough Stakes at York and Newmarket's Midsummer Stakes among them. He came out at Liverpool early in his four-year-old season to win the Earl of Sefton's Stakes but did even better by winning at Newmarket and Newbury, as a prelude to success in Goodwood's King George Stakes. At the end of that year he retired to stud at a fee of £98, a highly-price stallion.
From Newmarket (where Walter Earl took over the Moulton Paddocks stable) de Mestre moved to Whitsbury. He was never happy there and things did not go well, so in 1926 he "took a sabbatical" and returned temporarily to Australia. He did not stay there very long, though, and returned to England to train at Twyford, near Winchester, where a very useful two-year-old named On Avon helped to re-establish him by wining at Kempton, Epsom, Sandown, Bibury Club, Hurst Park and Goodwood.
Other winners included - St Elmo b.c. by Pharos - Friary Court. As a 2-y-o ran 10 times winning twice at Chepstow (Merthyr Selling Plate of £110 in Lord Allendale's colours after which de Mestre put in the top bid of 190 gns) and at Gatwick (the Wick Selling Plate). As a 3-y-o in 1932 he again ran 10 times, winning at Alexandra Park. In his last two outings he ran in the name of Mrs E. G. de Mestre.
Colleton House, Twyford, Hants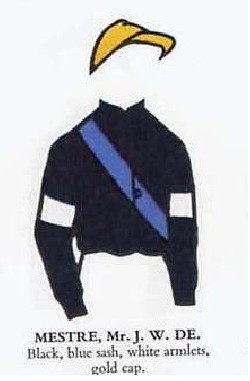 de Mestre UK colours


The following description of the de Mestre house in Sydney in Victorian Australia is so fascinating that it is taken verbatim from the Occasional Monograph No 2 Prosper de Mestre in Australia by Margaret de Mestre in collaboration with Neville de Mestre, for the French-Australian Research Centre, with many thanks.
Home Life 1838

In 1838, the ever-increasing de Mestre family moved from George Street, where they had lived since 1822, to a new residence in Liverpool Street, at the south end of Hyde Park. Overlooking the park, the house was fronted by a terrace with a verandah above. The ground floor consisted of an entrance hall, a spacious dining room, and a front parlour with cedar folding doors opening into a breakfast room. Both main rooms were fitted with marble chimney pieces. A butler's pantry and a private store room completed this floor. The first floor contained an elegant drawing room with French windows which opened onto the veranda; the rest of this floor consisted of a front sitting room and a back sitting room or bedroom with dressing room. On the second floor there were seven bedrooms. The out-buildings included a detached kitchen, servant's room, pantry, wash house, coach house and stables, a pump and well.
Described as an "excellent mansion" when it was advertised in the Sydney Morning Herald (4 January 1845), the 1843 inventory of its contents give some idea of the de Mestres's home life in the late 1830s. For family living the house was divided into one drawing room, three parlours, a back sitting room, eight bedrooms, a servant's room and a kitchen. All the rooms were extremely well furnished and the pantries contained numerous tea and dinner sets and large amounts of glassware and silver tableware.
The large number of bedrooms meant that, with the exception of two who had to share, each of the remaining six children in 1838 enjoyed the luxury of a room of his or her own. Each bedroom, with its own carpet or rugs, was furnished with an iron bedstead; washstand, usually marble-topped, and wares; towel horse; at least two and as many as five chairs; a dressing glass; a chest of drawers, dressing table or wardrobe; and sometimes all three and more. The main bedroom on the upper floor, for example, contained three wardrobes, a dressing table and a chest of drawers. The master bedroom accommodated a four-poster bed, a sofa, a dressing-table and glass, two wardrobes, two dressing boxes, a chest of drawers, a marble-topped washstand and wares, a swing dressing glass and a child's cot. At the time of the inventory, Mrs de Mestre must have still had her tenth and youngest child by her side at night.
The back parlour was obviously the children's domain and set up in such a way as to encourage study. It contained four bookcases fitted with books, two world globes, a table and six chairs and four children's desks. The education and well-being of their children was clearly a major concern of the de Mestre parents.
The household effects reflect the hobbies and pastimes of the family. All the parlours and the drawing room contained bookcases and books. Two of the parlours contained pianos while the drawing room held a grand piano and a guitar. The drawing room also contained five card tables. It would seem then that home entertainment centred on reading, music and card playing. The family was also well-equipped with "wheels" for the stables held two bay horses, and the coach house, two carriages.